Let our Germantown movers take the stress out of moving day!
Our Germantown moving company is your best and most trusted local resource for all of your moving needs. Whether you have residential, commercial or specialty items to move,we are ready to show you what a seamless, stress free move is all about.
We are equipped to move anything and everything…Seriously. Because of our amazing team of movers in Germantown TN, we provide years of moving experience, expertise and proper moving equipment. Titan Elite Moving and Packing offers local and long distance moving services. Our Germantown movers are the most trusted team you'll find. We pride ourselves in our professional and timely service.
We strive to make our customer service second to none so you can enjoy your Germantown moving experience! This is why we are one of the top moving companies in Germantown. Our team of movers is only a call or a click away to make your move hassle-free. Call us today or fill out a form online to get a free in-house quote!
Are you looking for Professional Movers In Germantown, TN?
REACH OUT TO OUR MOVING COMPANY IN GERMANTOWN, TN FOR A FREE ESTIMATE
If you're getting anxious just thinking about your upcoming Germantown move, contact Titan Elite Moving & Packing. Our team of movers are committed to packing and transporting your items quickly and carefully. We'll make sure your commercial or personal items are safe during the big move.
Owner Chris Nance has been working in the moving industry since he was 18. He started Titan Elite Moving & Packing to provide our community with stress-free moving services. We'll take care of everything from long-distance moves, packing and speciality moving services (like piano moving).
Call our movers in Germantown, TN now to get an estimate. We charge affordable, flat rates for our moving services. In addition, we provide moving services in multiple areas including Collierville TN, Memphis, Germantown, Bartlett, and the surrounding areas.
"5 REASONS" Why Our Moving Services Are Worth Your While
Picking the right movers is no easy job. For years we have been serving Collierville, TN and it's sorrounding areas. We take pride for being the go-to solution for any moving job. Over the years our customers continue to rely on Titan Elite Moving & Packing because:
✔ We go above and beyond for every client
✔ We value 100% customer satisfaction above all else
✔ Our owner is present on almost every job
✔ We provide commercial and residential packing services.
✔ We offer specialty, local- and long- distance moving services.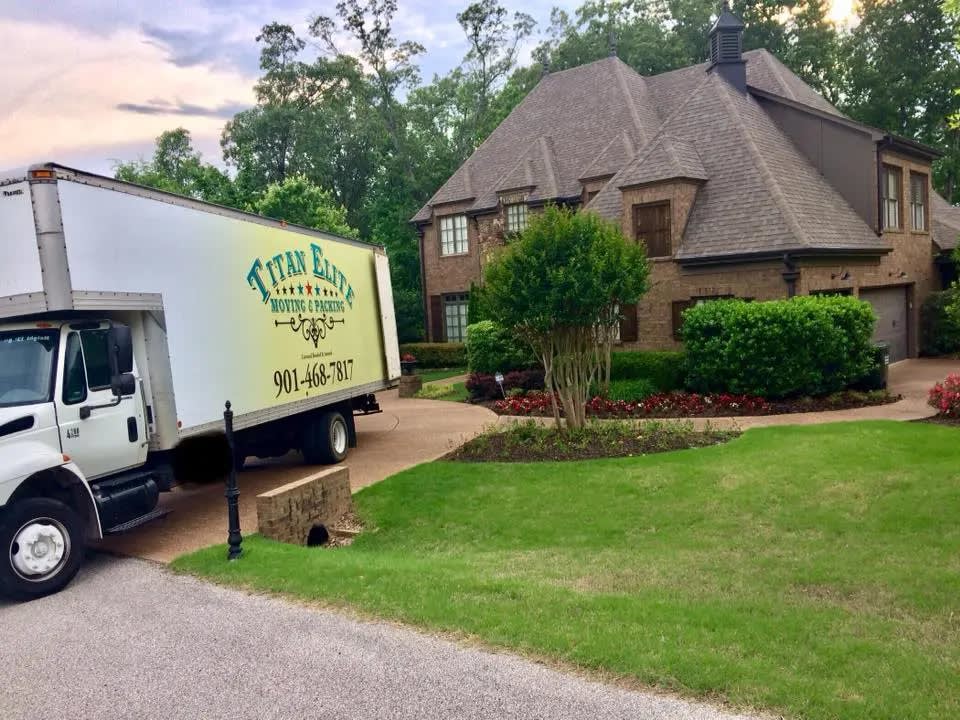 These guys are great. Will never use a different company. Hunter, Harrison, and Matt were super helpful.
Jeremy Robertson
19:11 19 Mar 23
Movers were great desk people not so much
10/10 would recommend Titan Elite moving! They were communicative, on time, hard workers, careful with our belongings, and a really fair price.
Brayden Decker
17:33 01 Feb 23
Excellent service, wonderful work ethic, very helpful! Arrived on time did not stop until completed….did not slow down because on a the clock. Pricing was very fair and reasonable. I will only use Titan for my moving! Highly recommend
Robin Sarratt
19:25 29 Jan 23
The brothers were very friendly, professional and I would highly recommend them and your services.
Jamillah Norrells
19:08 27 Jan 23
Moving is something that people don't do often. The guys at Titan were so helpful, respectable etc. I will call Titan's again the next time I move!!
Linda Shoffner
17:39 27 Jan 23
The crew was very organized and worked as a team to pack effectively and efficiently to minimize the time charge. They tagged team taping, strapping and covering items to protect them from damage and that was very professionally done so items were handled with care.They were very friendly and easy to work with and wanted to make sure things were placed to your liking. At the next location!Would highly recommend!Monica L Wright, MD
Monica Wright
19:01 17 Jan 23
These men were so amazing and made our experience so nice. I would absolutely recommend this company. The service is outstanding.
Vicki James
19:11 15 Jan 23
I recently used Titan Elite Moving and Packing. Harrison and Hunter were quick, efficient, and courteous. They moved the belongings I needed moved to my new home fast and seamlessly. Also, the pricing was better than most companies I quoted. When my lease is up, I know exactly who I'll be calling. Thank you Titan Elite Moving for making my family's move to our new home less stressful!!
Aw Naturale
17:34 09 Jan 23
Very impressed! Great crew that was careful, fast and very professional! Highly recommend.
Shannon Lenoir
19:04 24 Dec 22
The office communications were spot on and the young men who did the actual moving were so very kind and respectful. I have used this company three times over the last few years for my family's moving needs. They have been amazing and trustworthy. Chris especially has been a great strategic manager!!!!
Kristi Frisch
02:12 14 Dec 22
Where do I begin???!!!??? This move was an excellent one. Hunter, Will, and Harrison made what could have been a very daunting day a bearable one. They were very organized and professional from start to finish. I called to reserve my move and the rep was very efficient and professional. She explained everything well and the terms were succinct in digital format. Everything was straightforward and never did I feel this company was not trustworthy. Their business practices are stellar. I had just finished part 1 of a move from a 4 bedroom house to storage and was now downsizing to a 3 bedroom house. They were on time and friendly from the start. The movers never balked at moving anything from my two storage units. We were consolidating items to one unit, but in the process had to address the fact that the previous company did such a shoddy job that many of my items were broken and put in storage happenstance. Things that should have been wrapped were not and they were not packed appropriately. The guys with Titan took the time to stack the items neatly and also place the ones to be transported safely and wrapped in their truck. They asked me where I wanted each item and stayed to put my furniture together in it's appropriate rooms. They were very respectful and careful of my property as well. The previous move was half done over the course of 2 days, and these men did it in 6 hours (plus travel time) impressively considering the volume I had and the level of organization it required. They also were pleasant and didn't try to "ride the clock". I was pleased with them and their service and would recommend them to anyone who needs movers.
Angel DeSquare
21:18 11 Dec 22
I have moved so, so many times in my life. Internationally, locally, across states. Never in my life have I had a better moving experience than the one I had with Titan Elite. We booked a pack and move service with them and both appointments were excellent. Every single person who helped us (all six of them, including Kelly, the person who helped us book the service!) Was amazing, kind, patient, funny, and supportive. The kind of energy you need to make you feel confident and trust the process. They even made sure I was able to deliver a furniture gift to my mother nearby and were considerate and careful with her decor. I can't see myself booking with any other company for as long as I live in memphis. When the time comes that anyone I know needs help with a move, Titan Elite will be shouted from the mountain tops. Thank you all so, so, so much for helping an anxious lady, her bestie, and husband get taken care of.
Johanna Duke
21:10 29 Nov 22
Professional and efficient. We will always use Titan Elite.
Natalie Wade
19:10 28 Nov 22
The guys were really nice and professional and on time, I would use your services again. The problem I had was one of my totes that had a lot of important papers and some expensive glasses was in the tote alone with my high school diploma. I've looked everywhere for it! But other than the experience was good thanks again
Athelyn Morris
19:05 27 Nov 22
Our move, carried out my Jeremy, Will and Josh, was the most friendly & efficient move ever. Their team was very neat, careful with delicate items, prompt and professional. We highly recommend Titan Elite Moving with 5 stars ⭐️⭐️⭐️⭐️⭐️!!!!!!The Woodley's
Delores Roberson
23:18 26 Nov 22
Titan Elite is the best in town. The movers all have a positive attitude and are a extremely efficient and careful.
Libby Wunderlich
20:52 13 Nov 22
These movers are professional and efficient. They come highly recommended.
Jason Powell
20:42 07 Nov 22
Matt and Meg Judge
18:25 03 Nov 22
Great group fellas... Jeremy , Matt and Harrison was the best!!!
Brandon Shorter (B-Breezey)
19:02 30 Oct 22
I used the same company for a different move. I will always use them. They were great. Whoever gets this text please have Chris to call me. Thanks.
Perry Williams
14:23 23 Oct 22
We used Titan Elite yesterday to move my Mom and Dad's furniture to their assisted living apartment. They were so professional, careful, friendly, kind, and fun to talk to! They went above and beyond what they needed to for this move to go as smoothly as possible. I am SO HAPPY with this company and will HIGHLY recommend them to anyone who is planning a move. Thank you Titan Elite Moving and Packing!
Pam Hartley
00:30 22 Oct 22
I've used them twice. The service was great. Efficient and friendly. I recommend them highly.
Daniel Kay
20:10 21 Oct 22
Titan Elite recently moved us from an apartment to a house. The crew arrived on time as scheduled. The crew Chris, Hunter and Will introduced themselves and got to know us by name. They were efficient and very helpful. They definitely take pride in what they do. Once we got to the house they asked us where everything was to go. Re-assembled our bed frame, entertainment center and hooked up the washer and dryer. I thought they went above and beyond. The move was stress free and definitely worth the cost. Highly recommend!
Tony Belindo
14:05 18 Oct 22
In a word FLAWLESS!! Absolutely did exactly what you would expect from a mover !! No wasted time all business, courteous professional and extremely knowledgeable!!
Sharon Vega
02:48 14 Oct 22
Deb Nelson
17:28 12 Oct 22
Very transparent… efficient, friendly and respectful staff. They stayed with us all day long to make sure my family and I are ready for our new house. Very responsible price too. Highly recommended
Riyad Rammal
13:32 07 Oct 22
Hunter and Mike were friendly and efficient! It was easy to see their knowledge and skill. I highly recommend Titan Elite Moving & Packing!
Brittni Patterson
02:18 06 Oct 22
Titan was great. The guys showed up on time, asked what needed to be moved and started working immediately. All three guys were very professional and friendly. They worked quickly and took care of everything being moved. I highly recommend them.
Sharon Hendrix
19:14 02 Oct 22
Second time using Titan Elite and I couldn't be happier!
Mary Erkel
19:04 01 Oct 22
I couldn't imagine a better moving experience! I had a lot more to move than I anticipated and really wasn't as prepared as I should have been. It turned into a much longer day than any of us had planned but they were both so patient and did an amazing job - they truly went above and beyond. I would highly recommend Titan Elite to anyone looking for a quality moving experience.
Ansley Smith
17:06 29 Sep 22
Great movers! Very helpful and friendly.Would definitely use them again!
Second move in three months and I found out that just having some men and a truck doesn't make a mover. Titan Elite was professional, on time, responsive, efficient, caring and affordable. Chris and Hunter did an excellent job from start to finish and even stacked the boxes neatly in my new home and didnt leave until they were sure everything was where i wanted it to be. I would give them twenty stars if I could! They are simply the best.
Lois Donnelly
16:04 22 Sep 22
Landon and his crew at Titan Elite Moving and Packing did an Excellent job for my family move!! We could not have asked for a better experience. They were on time, efficient and knowledgeable about moving and protecting my Mother's antique furniture. They even noticed a loose leg on her China cabinet and repaired it on the spot! I would highly recommend them and will use them again. It was by far the best move that we have ever experienced. If I could give them more than 5 Stars I would!
Dana Richardson
23:28 11 Sep 22
Stacy Barkley
19:01 28 Aug 22
Titan Movers made a stressful move super easy! The movers were all very polite and helpful, and took excellent care of my furniture. They placed and put together everything at the new home, and worked with me to place my items in a convenient location for easy unpacking. I highly recommend Titan Movers!
Virginia Winn
19:23 27 Aug 22
Hunter and Jeremy did an excellent job with moving my personal items. They took their time with unloading the furniture and securing it within the storage unit. Kudos for their fantastic personalities...I am a meticulous, persnickety and squeamish individual and they managed my quirky personality like champions. Their professionalism was extraordinary and I am looking forward to working with these two energetic, dependable, organized, diligent,flexible and honest persons again up the completion on my new home....your truly the midwestern from (Indy).🌝
Kim Shackelford
19:28 25 Aug 22
Titan Elite was awesome! They were recommended to me by a real estate broker. They moved 250+ lb pound piece (& several more heavy pieces) down 3 flights of stairs in a time I didn't think was possible. Each of the 3 man crew was experienced, & efficient. Quite patient & kind to this old lady freaked about moving as well. Allow me to assure you, you need not look elsewhere for the best.
Elizabeth Brock
19:14 02 Aug 22
Srinivasa Raju Mantena
13:16 02 Aug 22
All the guys were great! It was a challenging move and they had a positive attitude the whole time. They did a wonderful job!
Tracy Hendry
00:17 31 Jul 22
I will never use another company again. Punctual, efficient , and excellent communication . Highly recommend, you want regret it .
Charis Harvey
19:12 25 Jul 22
Titan Elite and their crew did a wonderful job moving my family into our forever home. They were professional, had great communication throughout the process, went above and beyond with ensuring all our items were packed and transported with care. Would highly recommend this company for all your moving and/or packing needs! Thank you!
Kellie and Jim Dood
02:47 24 Jul 22
Stop looking right now and call Titan. On a 1-10 scale, I give them a 13. They were fantastic. On time, courteous, professional and they had all the tools and equipment to load, move and unload everything perfectly, with zero damage. Great job!!
Dale Chrystie
13:41 18 Jul 22
Brittini, our move coordinator, made everything clear and easy at each step. The movers were early and worked carefully and quickly. Highly recommend them!
Ginger Haynes
19:05 12 Jul 22
Darla Richardson
19:06 30 Jun 22
If I could give more stars, I would! I think I've moved an average amount in my adult life and have hired various moving companies. I've also witnessed moving companies a decent amount from helping friends and families move, and I've had some WILD experiences. WILD in terms of being quoted an unreasonable amount, or movers taking their precious time and extending a 2 bedroom move to 8 hours! Showing up drunk or high, and my personal favorite aggressively hit me while taking "breaks" and then left their phone numbers in the DUST OF MY FURNITURE and then demanded a sizeable tip! I'm sure others have wilder moving stories. Still, all that to say that Titan Elite has MOST DEFINITELY set the standard for me forever for ALL moving companies! From their responsiveness on the days leading up to my move to the end of their driving away. I never felt safer from three random men in my home with all my things! And I am a woman who was by herself during this move. Chris, Hunter, and Harrison were THE ABSOLUTE BEST! and probably also REALLY caring and good human beings!! I could list everything they did but this would turn into a novel. Just know that I was met with genuine respect, care, understanding, support, and help throughout the entire move! I did not feel unsafe or being left with no choice but to pay more (like other moving companies have made me think). They were sooooo efficient and fast. I just truly can't say enough about how much Titan Elite needs EVERYONE'S business! Not just in Memphis but everywhere! I like never want to move again unless I have Chris and his team to help me! Thank you, Titan Elite!
Khrystal Lastimosa
15:30 25 Jun 22
We were very pleased with the outstanding service with Titan Elite. The men were on time, courteous and worked hard to be careful in our new home. They wanted to make sure each piece of furniture and the rugs were exactly where we wanted them to be placed. We have never experienced the great service we received from Titan. Call them for your next move!!
Carolyn Ragland
03:09 22 Jun 22
MOVE ACROSS CITY OR STATE LINES EASILY
We charge flat rates for our long-distance moving services. You can count on us to move all your belongings safely, whether it takes us one or several hours to do so. While most of our jobs involve moving belongings from Collierville, Bartlett, or Germantown to another city, we can move you into town, too.
AVOID BREAKING THE BANK WHILE MOVING
We all know moving can be expensive, but that's not the case with Titan Elite Moving & Packing. We offer affordable moving services in Collierville, Tennessee and across the area including in Germantown. Our team helps homeowners and business owners move to their new property for a reasonable rate.
A Bit About Germantown TN
Germantown TN is a suburb of Memphis TN. It borders Memphis on the southeast and it's economy is largely driven by retail and commercial service sectors.
With an affordable cost of living and a thriving entertainment industry, Germantown is a fantastic destination to move to and call home!
One of the benefits of moving to Germantown TN is you can hire our fantastic team of Germantown movers from Titan Elite Moving and Packing. 
Our Germantown movers will make sure your move is seamless and stress free. We take care of all the little details from start to finish so your move day is enjoyable!