Let our Germantown movers take the stress out of moving day!
Our Germantown moving company is your best and most trusted local resource for all of your moving needs. Whether you have residential, commercial or specialty items to move,we are ready to show you what a seamless, stress free move is all about.
We are equipped to move anything and everything…Seriously. Because of our amazing team of movers in Germantown TN, we provide years of moving experience, expertise and proper moving equipment. Titan Elite Moving and Packing offers local and long distance moving services. Our Germantown movers are the most trusted team you'll find. We pride ourselves in our professional and timely service.
We strive to make our customer service second to none so you can enjoy your Germantown moving experience! This is why we are one of the top moving companies in Germantown. Our team of movers is only a call or a click away to make your move hassle-free. Call us today or fill out a form online to get a free in-house quote!
Are you looking for Professional Movers In Germantown, TN?
REACH OUT TO OUR MOVING COMPANY IN GERMANTOWN, TN FOR A FREE ESTIMATE
If you're getting anxious just thinking about your upcoming Germantown move, contact Titan Elite Moving & Packing. Our team of movers are committed to packing and transporting your items quickly and carefully. We'll make sure your commercial or personal items are safe during the big move.
Owner Chris Nance has been working in the moving industry since he was 18. He started Titan Elite Moving & Packing to provide our community with stress-free moving services. We'll take care of everything from long-distance moves, packing and speciality moving services (like piano moving).
Call our movers in Germantown, TN now to get an estimate. We charge affordable, flat rates for our moving services. In addition, we provide moving services in multiple areas including Collierville TN, Memphis, Germantown, Bartlett, and the surrounding areas.
"5 REASONS" Why Our Moving Services Are Worth Your While
Picking the right movers is no easy job. For years we have been serving Collierville, TN and it's surrounding areas. We take pride for being the go-to solution for any moving job. Over the years our customers continue to rely on Titan Elite Moving & Packing because:
✔ We go above and beyond for every client
✔ We value 100% customer satisfaction above all else
✔ Our owner is present on almost every job
✔ We provide commercial and residential packing services.
✔ We offer specialty, local- and long- distance moving services.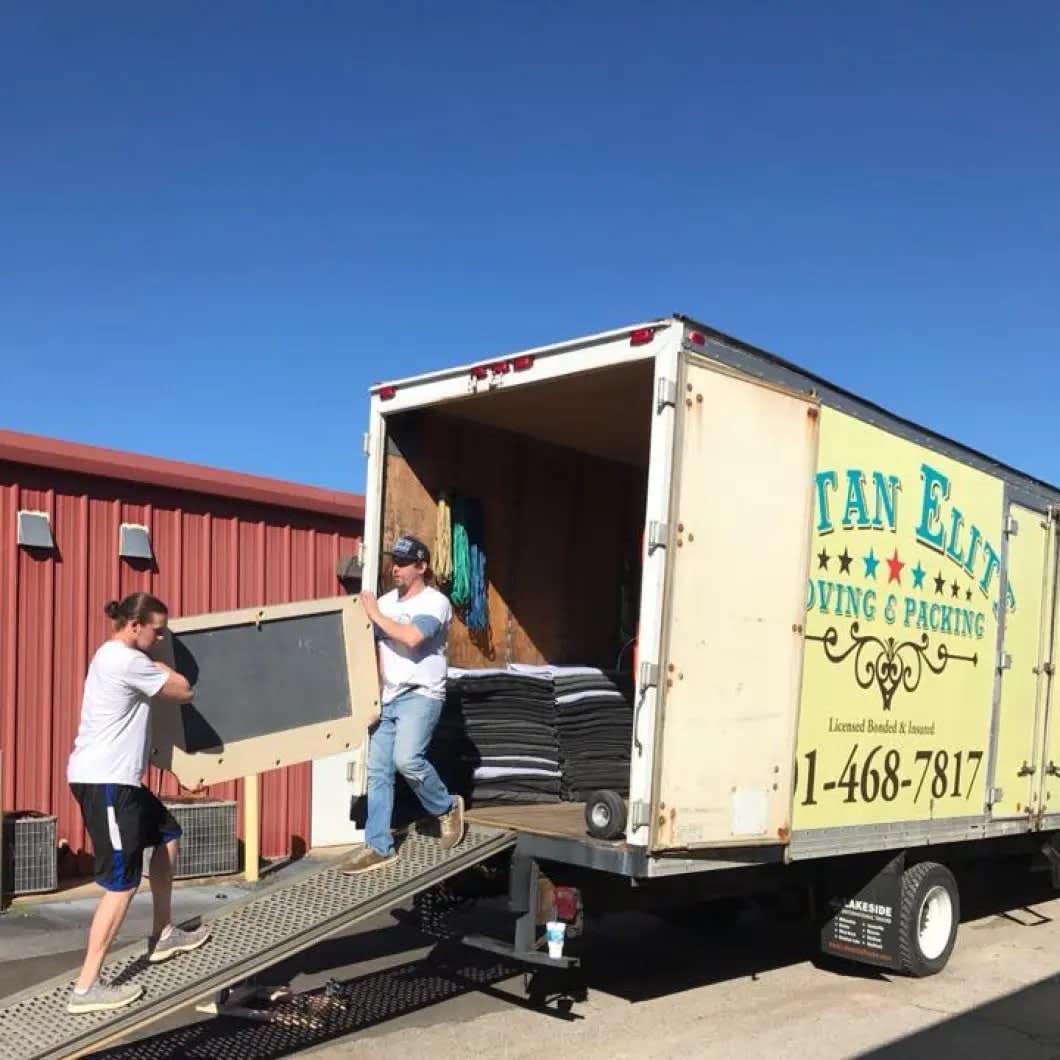 One of the best moving experiences I've ever had!
Personal, professional and extremely nice to deal with.
Nathan Ratchford
19:07 26 Sep 23
Fantastic experience! Courteous, professional movers. On time, thorough, and caring with our items. Highly recommend!
Faith Shaunak
22:44 18 Sep 23
Great team of movers to work with!
Rachel McKinley
02:06 18 Sep 23
Julie King
19:02 03 Sep 23
This is my sixth or seventh move with Titan. I refuse to use anyone else for a series of reasons. Firstly, they work so hard. It's insanely hot and they plugged through my stuff to ensure I am never overcharged by the hour. Secondly, I have never had a damaged piece of furniture in any of my moves because they are consummate professionals. Thirdly, they keep track of my stuff! I only had to update a few pieces of furniture so my consultation for a move is easier each and every time. Fourthly, they are THE MOST reasonably priced moving service in the area but with the quality of care they invest in each move, I almost feel like I don't pay enough. I didn't have to stay in 100+ degree weather or immobilize my own back attempting to make this a cost efficient decision. Titan for life.
The best moving company! Highly recommend!
Lauren Fischer
19:55 25 Aug 23
We can't say enough about Titan Elite! Josh, Jeremy, Harrison and Matt were on time, friendly and very professional. After loading the truck we had three delivery stops and they packed everything in order and it went so smoothly. They worked together so well and it was the easiest move we've ever done. I can honestly our day was completely stress free. They cared about packing and wrapping things right and everything was delivered perfectly. We really enjoyed them individually as well. We will never use anyone else!
Karen Dula
19:25 20 Aug 23
Hunter, Harrison & Matt were awesome!! They were prompt, friendly, experienced and professional. Other than a couple of wall nicks and one broken plate, it was perfect. 😊
Sandi Murphy
02:38 18 Aug 23
Will and crew were careful, helpful, thoughtful and fast! Best move ever, and I've moved a lot in 68 years! Great company. I couldn't be more pleased.
deborah Daniel
19:26 16 Aug 23
I have moved 5 times in the last 2 years. I wish I had known about Titan Elite from the start. I can not give enough accolades to the team I had. Chris, Jeremy, Hunter, Matt & Josh were AWESOME. They were on time, professional, courteous & went over & above what they were asked to do. They properly secured my items, were very transparent about the process & moved efficiently around my home. I have never had an experience like this before. They literally took all of the stress out of the move. I am grateful that I found them.
Janeyce Hartsfield
17:23 10 Aug 23
I can say so many good words about Titan Elite Moving. These men came into my home, went right to work moving my items onto their truck, and reassembled at my new home efficiently and with care. They were extremely nice, professional and respectful. I would use them again and again. No need to search for another mover. Titan Elite Movers! Chris, Matt and Harrison, my family and I thank you so very much for making this stressful move so much easier. 🙌🏽🙌🏽🙌🏽2nd time using Titan Elite. Once again, they did NOT disappoint. So very pleased with this company. Jeremy & Jason were friendly, professional, and thorough. Great job guys. Thank you again TE Titans 💪🏽💪🏽
Great experience - movers were professional, polite, efficient and patient! Would use Titan Elite again without hesitation!
Robert and Jocelyn George
19:09 28 Jul 23
Vince Scullark
01:41 26 Jul 23
Kind, polite, professional group! I couldn't be happier with our choice for a moving company. They were able to squeeze us in and make it work for our schedule.
Jenna Brooks
19:01 15 Jul 23
We needed a move on short notice and Titan made it work. Very prompt and professional but more importantly careful with all of our belongings! Highly recommend!
John Coward
19:02 14 Jul 23
Courteous , conscientious, and professional! Went above and beyond offering help with assembly. Would definitely recommend them to anyone! They worked hard, listened to ideas on moving items in tight spaces, and delivered great service.
April Benamati
21:05 04 Jul 23
Great attn to detail. Super hard working friendly staff. So willing to help the first hour as was the last hour. Super careful with my furniture and boxes
Patty davis
23:15 01 Jul 23
This move was made so much easier for us because Titan Moving was great.
Karen Rutledge
21:12 30 Jun 23
Matt and Harrison were great. Move was smoother than I could have hoped. Very happy with Titan
Blake Hobson
00:44 26 Jun 23
I have moved several times in the past 28 years, but I have never used professional movers before. I live on the third floor of an apartment building, and I just couldn't do it on my own this time. A friend of mine spoke highly of Titan Elite Moving, so I called and left a message in the evening and Kelly called me back a little while later. She was so helpful to get me set up for my move and communication was fantastic from start to finish. So on June 22 with the temperatures and humidity high, Hunter, Matt, and Harrison moved me from the third-floor, and took my things to two different locations that I had specified. These guys went above and beyond and I am truly grateful for all their help. I could not have done this with out them. I will recommend them to anyone and everyone, and if I need to move again, I will definitely be calling them!
Luciana Carroll
19:19 23 Jun 23
Titan Elite did a great job. They were effective and efficient, did not break anything. I will most definitely use them again.
Betty Bluitt
15:41 23 Jun 23
Maude Wayne
21:53 19 Jun 23
Josh N was a very big help and very respectful. Took his time and whateverAccommodations I had he fulfilled my wishes. Definitely grade A+ service . Great pricing and communication. Would definitely recommend to anyone who needs professional movers .
Joshua Eddings
20:18 11 Jun 23
I had a somewhat bad experience before with another moving company so I used titan elite this time around and they were amazing! They were very quick yet careful, friendly and accommodating with any requests I had. They made my move quick and simple and I will be using them again and referring them to everyone I know.
Laura Davis
19:33 11 Jun 23
I would definitely use this company again. They provided outstanding customer services.
Montriett Johnson
21:04 08 Jun 23
Very efficient & on time, so welcoming and friendly.. Thanks!
Erica Jusblessed
19:53 22 May 23
I highly recommend Titan Elite Moving. My moving process was smooth from the 1st time speaking to Matt and the other call center staff members all the way up to Hunter and Harrison completing my move. Awesome company! Happy customer and family!!!
Sian Green
09:02 22 May 23
Great movers for an in town move. Asked the right questions, handled everything with care and got everything in (including an adjustable foot for a console that fell off in the truck that ended up being very much needed). Cost about half of what another larger company charged after fees… definitely will use Titan Elite again.
Jonathan Tsay
22:18 11 May 23
I use these guys weekly professionally and I recently used them on my own personal move. Top notch service for reasonable prices, these guys are great!! Would definitely recommend to family and friends!
Jessica Jennings
13:13 04 May 23
This review is a little late, about 2 months late. But I wanted to make sure I give them 5 stars for their professionalism! All 3 movers were very reliable, friendly, & trustworthy! I have very high expectations when it comes to customer service, & they checked off every box! I was a little apprehensive to use other well known moving companies due to some of their reviews. I found this company through word of mouth. Glad that I did! I highly recommended & will use this company again! Be patient if the response time take longer to book, I didn't have that issue but I can understand why since it's a family business.
Ms. Sheree
16:33 03 May 23
Thank you for making my moving day so smooth! The cost was more than fair and I was able to get settled in fast. The excellent communication was fantastic and much appreciated. Thanks guys!!
Erin Hudson
19:33 29 Apr 23
They made our move look so simple.
Pramod Mavinahalli
22:04 24 Apr 23
The guys worked their tail off and were very efficient, professional and best price I found.
Jason Smith
19:05 22 Apr 23
Crystal Ayers
02:24 17 Apr 23
I don't remember the two men that help me move but they were awesome they were prompt and very friendly people, this company is highly recommended. If I ever move again I will be using TITAN ELITE MOVING & PACKING Thanks guys.
Tiffi Peeler
15:30 04 Apr 23
These guys are great. Will never use a different company. Hunter, Harrison, and Matt were super helpful.
Jeremy Robertson
19:11 19 Mar 23
Movers were great desk people not so much
10/10 would recommend Titan Elite moving! They were communicative, on time, hard workers, careful with our belongings, and a really fair price.
Brayden Decker
17:33 01 Feb 23
Excellent service, wonderful work ethic, very helpful! Arrived on time did not stop until completed….did not slow down because on a the clock. Pricing was very fair and reasonable. I will only use Titan for my moving! Highly recommend
Robin Sarratt
19:25 29 Jan 23
The brothers were very friendly, professional and I would highly recommend them and your services.
Jamillah Norrells
19:08 27 Jan 23
Moving is something that people don't do often. The guys at Titan were so helpful, respectable etc. I will call Titan's again the next time I move!!
Linda Shoffner
17:39 27 Jan 23
The crew was very organized and worked as a team to pack effectively and efficiently to minimize the time charge. They tagged team taping, strapping and covering items to protect them from damage and that was very professionally done so items were handled with care.They were very friendly and easy to work with and wanted to make sure things were placed to your liking. At the next location!Would highly recommend!Monica L Wright, MD
Monica Wright
19:01 17 Jan 23
These men were so amazing and made our experience so nice. I would absolutely recommend this company. The service is outstanding.
Vicki James
19:11 15 Jan 23
I recently used Titan Elite Moving and Packing. Harrison and Hunter were quick, efficient, and courteous. They moved the belongings I needed moved to my new home fast and seamlessly. Also, the pricing was better than most companies I quoted. When my lease is up, I know exactly who I'll be calling. Thank you Titan Elite Moving for making my family's move to our new home less stressful!!
Aw Naturale
17:34 09 Jan 23
Very impressed! Great crew that was careful, fast and very professional! Highly recommend.
Shannon Lenoir
19:04 24 Dec 22
The office communications were spot on and the young men who did the actual moving were so very kind and respectful. I have used this company three times over the last few years for my family's moving needs. They have been amazing and trustworthy. Chris especially has been a great strategic manager!!!!
Kristi Frisch
02:12 14 Dec 22
Where do I begin???!!!??? This move was an excellent one. Hunter, Will, and Harrison made what could have been a very daunting day a bearable one. They were very organized and professional from start to finish. I called to reserve my move and the rep was very efficient and professional. She explained everything well and the terms were succinct in digital format. Everything was straightforward and never did I feel this company was not trustworthy. Their business practices are stellar. I had just finished part 1 of a move from a 4 bedroom house to storage and was now downsizing to a 3 bedroom house. They were on time and friendly from the start. The movers never balked at moving anything from my two storage units. We were consolidating items to one unit, but in the process had to address the fact that the previous company did such a shoddy job that many of my items were broken and put in storage happenstance. Things that should have been wrapped were not and they were not packed appropriately. The guys with Titan took the time to stack the items neatly and also place the ones to be transported safely and wrapped in their truck. They asked me where I wanted each item and stayed to put my furniture together in it's appropriate rooms. They were very respectful and careful of my property as well. The previous move was half done over the course of 2 days, and these men did it in 6 hours (plus travel time) impressively considering the volume I had and the level of organization it required. They also were pleasant and didn't try to "ride the clock". I was pleased with them and their service and would recommend them to anyone who needs movers.
Angel DeSquare
21:18 11 Dec 22
I have moved so, so many times in my life. Internationally, locally, across states. Never in my life have I had a better moving experience than the one I had with Titan Elite. We booked a pack and move service with them and both appointments were excellent. Every single person who helped us (all six of them, including Kelly, the person who helped us book the service!) Was amazing, kind, patient, funny, and supportive. The kind of energy you need to make you feel confident and trust the process. They even made sure I was able to deliver a furniture gift to my mother nearby and were considerate and careful with her decor. I can't see myself booking with any other company for as long as I live in memphis. When the time comes that anyone I know needs help with a move, Titan Elite will be shouted from the mountain tops. Thank you all so, so, so much for helping an anxious lady, her bestie, and husband get taken care of.
Johanna Duke
21:10 29 Nov 22
Professional and efficient. We will always use Titan Elite.
Natalie Wade
19:10 28 Nov 22
MOVE ACROSS CITY OR STATE LINES EASILY
We charge flat rates for our long-distance moving services. You can count on us to move all your belongings safely, whether it takes us one or several hours to do so. While most of our jobs involve moving belongings from Collierville, Bartlett, or Germantown to another city, we can move you into town, too.
AVOID BREAKING THE BANK WHILE MOVING
We all know moving can be expensive, but that's not the case with Titan Elite Moving & Packing. We offer affordable moving services in Collierville, Tennessee and across the area including in Germantown. Our team helps homeowners and business owners move to their new property for a reasonable rate.
A Bit About Germantown TN
Germantown TN is a suburb of Memphis TN. It borders Memphis on the southeast and it's economy is largely driven by retail and commercial service sectors.
With an affordable cost of living and a thriving entertainment industry, Germantown is a fantastic destination to move to and call home!
One of the benefits of moving to Germantown TN is you can hire our fantastic team of Germantown movers from Titan Elite Moving and Packing. 
Our Germantown movers will make sure your move is seamless and stress free. We take care of all the little details from start to finish so your move day is enjoyable!